Monday, October 11, 2021
Friends:
I had a difficult day Saturday trying to understand the low turnout from both congregations for a major presentation on Stewardship. Now, let me say right away, I know we are all busy, and I know it's Stewardship not everyone's favorite topic.
However, this was well promoted and on the church calendar for St. Andrew's. This event had a Zoom from home option, and we had 6 folks from St. Andrews (3 on Zoom, one of which was Darren, the chair of Stewardship for St. A's) and 2 from Faith. Disappointing. I was embarrassed for both churches. Pr. Jerry O'Neal prepared a wonderful presentation that will be emailed out.
So, I was "fussy" all the way until I walked into Faith for the 9 a.m. service yesterday. Listening to the choir sing, seeing the people, getting greeted in the parking lot and walking into church turned me back to God and back to Christ.
St. Andrews and Faith, I cannot and will not be the one who "pushes" nor "pulls" you into the future. I will proclaim the Gospel, urge us forward together, and visit your sick and shut in and all of our families of faith. I will attend meetings; I will do all the things my role as Pastor calls me to do for the Lord.
It's your congregation. You have to make up your mind for yourself. I cannot make you attend things, I cannot force you to give of time, talent or treasure. I can only point us to Christ, who calls us forward. Are you with me?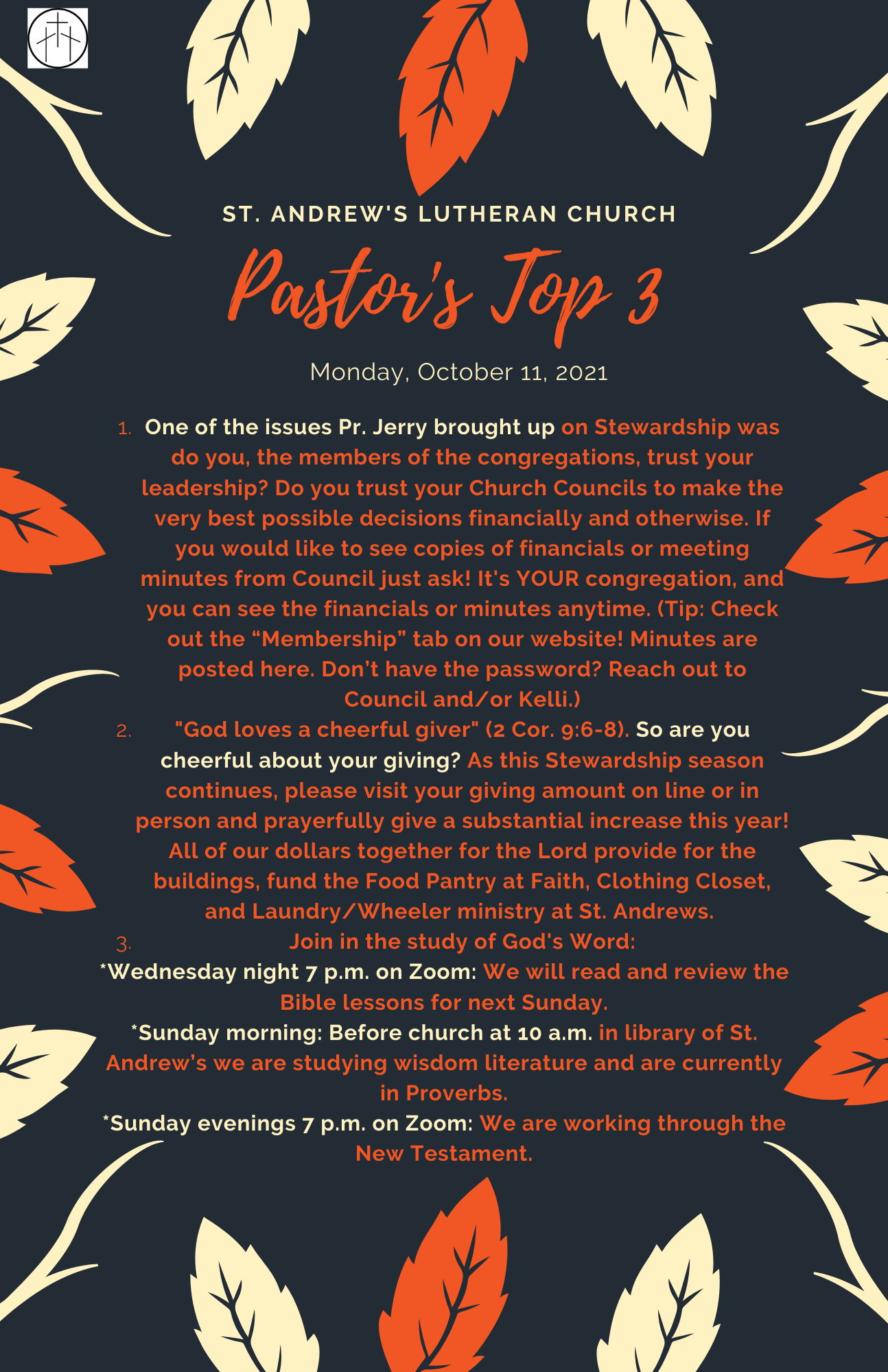 To God be the glory,
Pastor Doug
Remember:
Worship time is 11am.
Recorded worship available on website, Facebook, & email Sunday afternoons.
Office Hours 10-4, T-W-TH.
Midweek Moment Wednesdays 12pm.